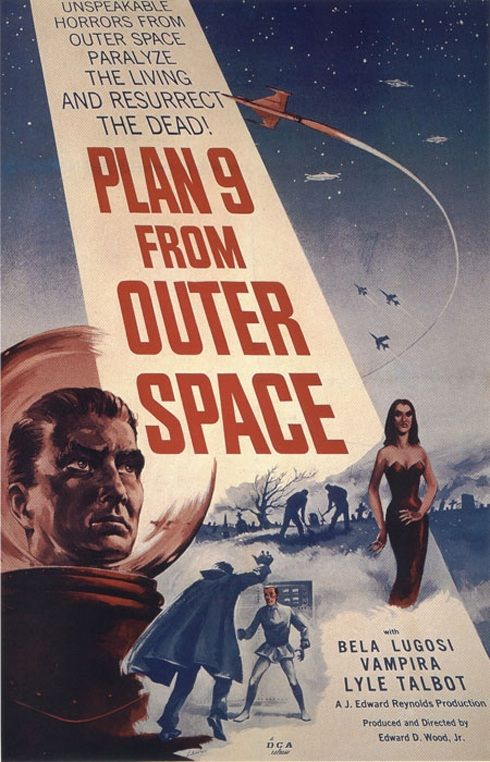 PRODUCED AND DIRECTED BY
EDWARD D. WOOD, JR.

"
With its incoherent plot, jaw-droppingly odd dialogue, inept acting, threadbare production design, and special effects so shoddy that they border on the surreal,
Plan 9 From Outer Space
has often been called the worst movie ever made. But it's an oddly endearing disaster; boasting genuine enthusiasm and undeniable charm, it is the work of people who loved movies and loved making them, even if they displayed little visible talent. In
Plan 9
, alien invaders attempt to conquer the world by raising the dead, starting with an old man dressed in a Dracula costume (Lugosi
[
...
]
), his much-younger and well-proportioned wife (Maila "Vampira" Nurmi), and a remarkably overweight police officer (
Tor Johnson
). Often funny and consistently entertaining (if almost always for the wrong reasons),
Plan 9 From Outer Space
is an anti-masterpiece if there ever was one, and as
Criswell
so brilliantly puts it, "Can you PROVE it didn't happen?!?"
[
...
]
"
allmovie
My friend, can your heart stand the shocking facts about grave robbers from outer space?
"
Plan 9 from Outer Space
is a 1959 science fiction/horror film written, produced, and directed by Edward D. Wood, Jr..
[
...
]
The film also claims to posthumously star Bela Lugosi through use of archive footage and a brief scene of the actor shot by Wood just before Lugosi's death in 1956, although Lugosi's character is primarily portrayed by chiropractor
Tom Mason
.
The plot of the film is focused on a race of extraterrestrial beings who are seeking to stop humans from creating a doomsday weapon that would destroy the universe. In the course of doing so, the aliens implement "Plan 9", a scheme to resurrect Earth's dead as zombies to get the planet's attention, causing chaos.
"
Wikipedia